COMPANY
Fabicon AS, established in 2002, is a privately owned Norwegian engineering company with a network of over 200 engineers from Norway, Poland, Romania and Spain. Utilising this network of engineers and production facilities, we are a full service provider of mechanical construction and fabrication services from start to finish.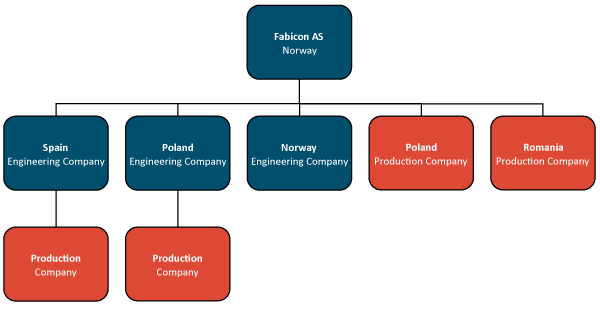 Our main area of expertise is structural design, strength calculation and analysis for mechanical construction and piping.
Our engineers also have speciaised and extensive experience in the following fields:
Vessel Equipment Design:
Vessel Construction Classification, Specification and Design
Lifting Equipment Design & Evaluation
Weight Estimation & Explosive Stress Analylis
Design of Attachment Equipment: Brackets, Foundations. etc.
Offshore & Subsea Equipment Design:
Offshore Fire Pumps, Generators and Mud Modules
Offshore Surveying and Modification Equipment
Pre- Inspection, Qualification and Certification of Offshore Equipment
Industrial Equipment Design:
Technical Drawing & Appraisel
Material Coordination, Planning and Project Leadership
In order to deliver the highest quality engineering services on the market, Fabicon's engineers consistently use state-of-the-art 2D/3D software including:
AutoCad
Mechanical Desktop
Inventor
ProEngineer
Catia
Solid Works
MathCad
Ansys
Staad Pro